Special Gift for a New Flame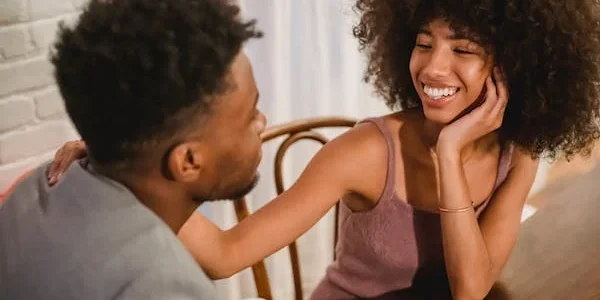 Manager / Sunday, January 08, 2023
Just a few months ago, you still had his name saved as "James"
A few weeks ago, it got changed to 'MINE❣️😍🥰"
😉😁Congratulations…
If you fall under this category and just got into a new budding relationship, this holiday season can be a little awkward when it comes to gifting.
Maybe because you have not fully known each other's taste or you feel that he/she might not like the gift because it is a low-budget gift which is what you can afford.
Whatever the reason is, Don't stress too much about it. They would absolutely love whatever you get them because it is from you and that makes it perfect.
However, just to help you, I would be giving you a few gift ideas and tips that would make your partner smile and think of you whenever they see or think about the gift. Here it goes:
Presently, Matching jewelry is really in vogue as it expresses the love shared between two individuals.
You could have each other's names engraved on bracelets, neck chains, wristwatches, and even cufflinks, etc.
Some people even have the precise date they started dating or each other's pictures placed in their pieces of jewelry.
A stylish hoodie or jacket is also a great gift to give your partner. You can even have their initials engraved on it or a pet name that you use to refer to each other. It gives a warm, cozy feeling, especially in the harmattan season.
Thoughtful small cards with inscriptions of how he/she makes you feel or how you see him/her are also an awesome gift idea for your boyfriend's first Christmas gift. It is really sweet and gives your partner a little insight into how he/she feels about you.
Scented candles with a sweet, fragrant smell are a perfect gift for your bae. You can get a manly cologne for your Boo that will give that musky undertone that you love.
Some fancy hand-cut stemless wine glasses are also options to consider. Useful for cocktails and wines at special home cooked dinners.
Hopefully, these will help you to get a gift that your partner will love.
For more info on what to get your significant other, Visit the links here And here;
---
Disclosure:

This article is written by the Surprise Package Company, a legally registered business in Nigeria.
Content shared and suggested here are solely for educational purposes, while the recommended products are gift packages sold directly from our gift store.
This article aims to provide a quick guide for new and returning users of our platform with no intention to impair your sense of judgment on the recommended products.
We welcome your feedback.
Email: contact@thesurprisepackage.com
December 2023
M
T
W
T
F
S
S
1
2
3
4
5
6
7
8
9
10
11
12
13
14
15
16
17
18
19
20
21
22
23
24
25
26
27
28
29
30