Best Gift Ideas for Employees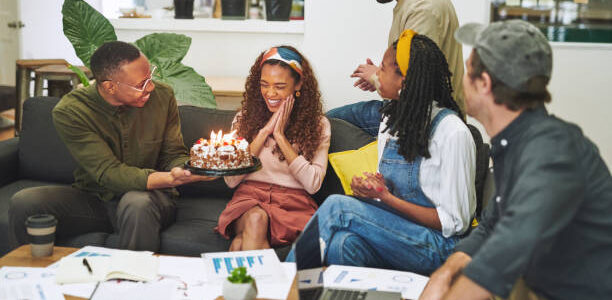 Manager / Sunday, April 16, 2023
Organizations should make efforts to appreciate the forerunners of the affairs of the company – Their employees.
Employee appreciation day is the first Friday of March every year and it is important to acknowledge the efforts of the ones who pour endless time and energy into helping the company succeed.
Gifts are a great way to show how much you value your team members and their contributions but the real question is what qualifies as the right or appropriate gift to get and some of them are:
Bags and Totes: These gift items are very functional and can be used practically every day so it fulfills their purpose.
Drinkware and Bottles: I think a ceramic coffee mug or a stainless steel bottle with the words "Thanks for all you do" would be an amazing gift item.
Journals and Notebooks: Employees would surely need notebooks or journals to take notes or make jottings so this is a very practical gift that would be put to use.
Gift Cards/Spa cards: This would serve as an avenue to relieve stress from all the work stress so it would be extremely appreciated.
Thank you meal: You can as well have food delivered to your employees or take them out for lunch as an appreciation gift to them.
Staff Party: For a simple way to appreciate your staff, you can as well give them an avenue to get dressed up, wine and dine, and party with their other colleagues. This will also serve as team building activities.
Employee gift box: You may contact an online gift shop like ours, – The Surprise Package Company to help curate a personalized gift box filled with exciting goodies that your employees would enjoy with themselves or with other close friends.
Make your team members feel amazing by giving them something that they can hold on to or show off to their friends and family members.
See recommended gift items below.
If the guide above has been helpful? Please let me know in the comment box, if you are yet to find a gift of interest then check out 'Thoughtful birthday gift ideas for your boss'.
---
Disclosure:

This article is written by the Surprise Package Company, a legally registered business in Nigeria.
Content shared and suggested here are solely for educational purposes, while the recommended products are gift packages sold directly from our gift store.
This article aims to provide a quick guide for new and returning users of our platform with no intention to impair your sense of judgment on the recommended products.
We welcome your feedback.
Email: contact@thesurprisepackage.com
December 2023
M
T
W
T
F
S
S
1
2
3
4
5
6
7
8
9
10
11
12
13
14
15
16
17
18
19
20
21
22
23
24
25
26
27
28
29
30